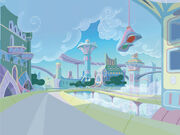 Angietown is the City of Angels; a metropolis that mirrors a human city, with schools, offices, hospitals, traffic lights, parks, cinemas, theaters, supermarkets... but with an angelic theme. This peaceful town located in Heaven.
Angietown is ruled by a council of five powerful Angels called the High Spheres (Alte Sfere in Italian). Their messengers are the Seraphim.
Ad blocker interference detected!
Wikia is a free-to-use site that makes money from advertising. We have a modified experience for viewers using ad blockers

Wikia is not accessible if you've made further modifications. Remove the custom ad blocker rule(s) and the page will load as expected.